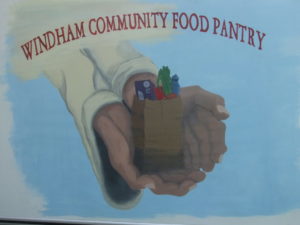 Windham Community Food Pantry
PO Box 788, Windham NY, 12496
(518) 734 – 3826
Hours are from 9AM – 12PM on the 2nd and 3rd Saturdays of every month with nightime hours from 5PM – 7PM on the Thursday between those Saturdays. We will update the board outside the building as well as our online accounts if there are any changes to our available hours because of weather, holidays or other circumstances. In order to provide the most food for as many families as possible we must limit each family to one visit, during available hours, per month. 
For I was hungry and you gave me food, I was thirsty and you gave me drink – Matthew 25:35
In 2007 we completed a 1728 sq. ft. warehouse and distribution center funded by the Windham Chapter of the Catskill Mountain Foundation. The building also includes a 128 sq. ft. walk in refrigerator/freezer, shelving for food storage, sorting tables and a reception area where individuals come to receive food and other items such as baby products, paper goods, toiletries and cleaning supplies as they are available to us.
The community response to the goals and visions of the Windham Community Food Pantry has been well received and overwhelming. Our agency is staffed by volunteers who wish to give of their time and serve the community. Students also perform community service at our establishment. 
Thank you to all of the volunteers and donors who help make this possible!
God bless you!